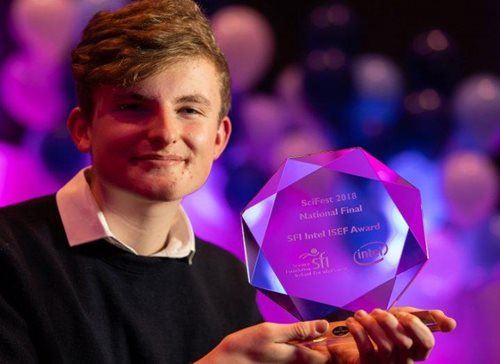 What were you doing when you were in fifth year of secondary school? While the vast majority of students have one eye on the Leaving Cert, Adam Kelly of Skerries Community College has spent the past two years creating something truly amazing.

At this year's all-island competition for science, technology, engineering and maths (STEM), SciFest 2018, Kelly was named as the overall winner for his open source solution to stimulating quantum computing, a technology with incredible potential to change the world.

Unlike a traditional computer that uses bits represented either by one or zero, a quantum computer works off 'qubits', meaning an action can be a one, zero or both at the same time. This means a quantum computer can work at an unprecedented speed on vast calculations needed in fields such as astronomy or climatology.

However, right now, quantum computers have yet to reach their true potential. So far, they are only found in a few labs in major research institutes or Silicon Valley giants such as IBM, and even then researchers are still working to reduce their size and boost their performance.

This development requires fast, accurate simulators, which is why Kelly developed an open source solution to quantum computing that was up to 15 times faster than conventional simulators. Capable of being used by anyone in their own experiments with relative ease, this software has direct applications in the verification of quantum devices, quantum algorithm design and investigations of quantum supremacy.

Next stop, Arizona

More than 10,000 students participated in local and regional SciFest STEM fairs across the country, but only 64 students were able to exhibit 37 projects at the final, held at the Marino Conference Centre in Dublin.

For his achievement, Kelly will travel to Phoenix, Arizona, to represent Ireland at the Intel International Science and Engineering Fair next year.

Speaking of this year's competition, SciFest founder and CEO Sheila Porter said: "SciFest gives students of all abilities and backgrounds the opportunity to develop their research, problem-solving, critical-thinking and presentation skills."

A number of other winners were announced on the night:
Leo Camacho picked up the SciFest Scientist of the Future Award for his project on making social media a better place using artificial intelligence.
Odhran Brady won the Berlin Long Night of Science Awards for his project on quantifying whiplash, an internet of things (IoT) sensor approach to help reduce insurance claims costs.
Nicole Marinos won the Boston Scientific Medical Devices Grand Award for her project on visual communication devices to promote patient participation and wellness during an MRI.
Darragh Fleming, Ethan O'Neil and Colm Looney won the SciFest STEM Outreach Award for their project on deer watching.
Emma Kelly and Brian Conlon won the Abbott Ireland Life Sciences Award for their project on the ecological impact of Irish gorse fires.
Tony O'Halloran and Aidan Mamo Cooney won the Technological Higher Education Association Award for their project on applications of queueing theory to the child and adolescent mental health services in Ireland.
Conn Caomhánach and Con Ó Meachair won the Irish Science Teachers' Association Award for their project investigating the biological benefits of EM probiotics in agriculture.
Colm Gorey

This article first appeared on www.siliconrepublic.com and can be found at:
https://www.siliconrepublic.com/machines/quantum-computing-scifest2018-adam-kelly