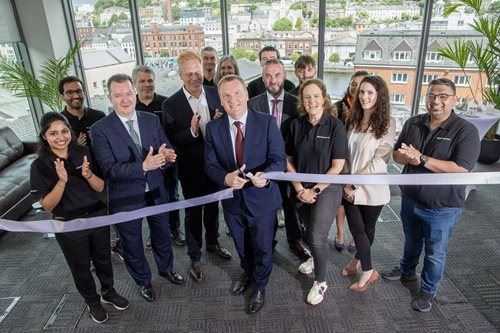 Cork 10th July, 2023
- Blink Parametric announced plans today to increase its headcount, effectively doubling its workforce in Cork by the end of 2025. The expansion will be across all technical roles including presales, full stack developers, QA and data analytics with opportunities across multiple levels ranging from experienced hires to graduates, the majority of which will be based in their new Cork-based, City Quarter office location.
Minister for Finance Michael McGrath
officiating at the opening of the company's offices, welcomed the announcement, adding that it "further demonstrates the strength of Cork's tech sector power base and its increasingly global reach. It is to the credit of the Blink Parametric team commitment to delivering world-class InsurTech innovation that it has secured its position at the heart of the CPP Group growth strategy. I applaud that achievement. This investment in people, infrastructure and R&D will serve Ireland's economy, provide skills and opportunity for our graduates and add to our outstanding reputation for excellence in technology."
The global parametric insurance industry was valued at $11.7bn in 2021 (projected to reach $29.3bn by 2031). The consumer parametric proposition segment of that market was valued at c.$1.7bn. Blink Parametric has a specialist focus on B2B2C parametric travel solutions. It serves the global travel insurance sector with flight disruption and lost/delayed luggage real-time claims assistance. This sector is experiencing market growth predicted to be nearly eight times larger in 2030 than it was in 2021 (reaching $108.8bn by 2030), buoyed by the number of flights and passenger numbers returning to pre-COVID levels by 2024 (c.34m and 4.4bn respectively).
Blink Parametric Chief Executive Sid Mouncey
acknowledged the Blink Parametric evolution from a high potential insurtech start-up founded in Cork in 2016 to a thriving, agile, specialist technology partner serving the global insurance industry today. "From this Cork hub, we leverage large scale data sets to create solutions that appear simple and intuitive to insurers and their customers. We deliver real-time insurance assistance solutions to automate insurance claims and payments, used worldwide every hour of every day. We are consumer-centric and are leading transformative industry change as Insurers modify their business models and work to improve their distribution channels. Our strategic objectives are ambitious and include becoming the 'go-to' partner for the world's large-scale insurers and brands, driving mass adoption of parametric technology. I am proud to say that we are on track following significant launches of our flight disruption solution in the US, UK, Italian and Japanese markets year to date. We have a promising pipeline of new market opportunities and look forward to delivering on further growth by building on our existing presence here in Cork and investing in its rich resource of skilled and talented people."
CEO of IDA Ireland Michael Lohan said:
"Blink Parametric's decision to locate in Cork is very welcome news. Its presence is a valuable reference point as we continue to attract InsurTech investment into the South West. IDA Ireland remains committed to winning projects for regional locations. I'd like to wish Blink Parametric every success."