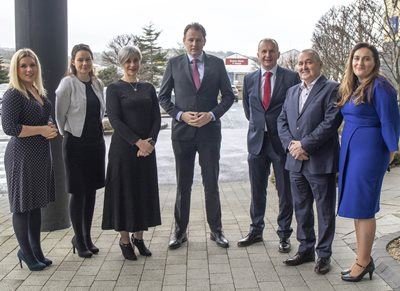 25th February 2022. Concentrix, a leading global provider of customer experience (CX) solutions and technology, today announced the creation of 50 remote working roles. With offices already in Dublin, Belfast and Derry, the expansion will further increase the company's footprint on the Island of Ireland and underscores the company's confidence in the skills, talent and ability of the county's workforce and its attractiveness as a destination for long-term growth and investment.

Concentrix, which has more than 270,000 staff worldwide, and more than 4,300 people across Ireland, provides customer experience and digital solutions for many of the world's biggest and best-known brands as well as up and coming disruptors in multiple sectors including technology & consumer electronics; retail, travel & e-commerce; banking, financial services & insurance; healthcare; communications & media; automotive; and energy & public sector.

While these remote opportunities are available across the country, Concentrix has chosen to focus its first phase of recruitment in Co. Donegal given its close proximity to the company's established site in the Ulster Science & Technology Park in Derry city and the North-West Region's skilled workforce, strong education system and robust technology infrastructure

Tánaiste and Minister for Enterprise, Trade & Employment Leo Varadkar TD said: "I'm happy that Concentrix is expanding their footprint here. The recruitment for these 50 new jobs, will initially target Donegal, demonstrating the county's attractiveness as a location for investment. I'm particularly pleased to hear of the flexible nature of these jobs with opportunities to work from home. Remote working will be a permanent part of life in Ireland after the pandemic, and it's great to see Concentrix embrace this shift. I wish the company well for the future, I'm sure you will be very happy in Donegal."

Attending the launch of the Donegal recruitment campaign, Minister for Agriculture, Food and the Marine and Donegal T.D., Charlie McConalogue said "The fact that a global company such has Concentrix has targeted Donegal for the first phase of their recruitment campaign is a testament to the education, skill and ability of the Donegal workforce. The fact that these 50 jobs are remote working opportunities, is a clear sign that Donegal is a place to grow our remote working offering which will in turn develop and enhance our rural communities. Developing remote working opportunities is a key priority for this Government".

Making an initial announcement in Letterkenny today, Sarah McKay, Vice President of Service Delivery for Concentrix, commented, "We see great potential in the Donegal region. With 160,000 residents and a rich pool of talented, well-educated people who we hope will want to come and join an award-winning international company like Concentrix, we are very excited about moving into Donegal and bringing new flexible employment opportunities to the county."


Executive Vice President, Philip Cassidy added, "We are committed to setting ourselves apart as a great employer who truly cares about its staff and the local community, and we are really looking forward to welcoming new, passionate and talented people in Donegal to the Concentrix family over the coming months."
Concentrix is already actively recruiting with opportunities for immediate starts available. With many different entry points and career opportunities, Concentrix offers great opportunities for people who want to work and grow in a leading international business. Recognised as a flexible employer offering security, development and work from home opportunities, search for careers@concentrix.com for more information.
IDA Ireland CEO Martin Shanahan said: "This decision by Concentrix to expand its Irish operations and offer remote working opportunities is very welcome news and demonstrates IDA Ireland's continued commitment to winning jobs and investment for regional locations. I wish Concentrix every success."

END