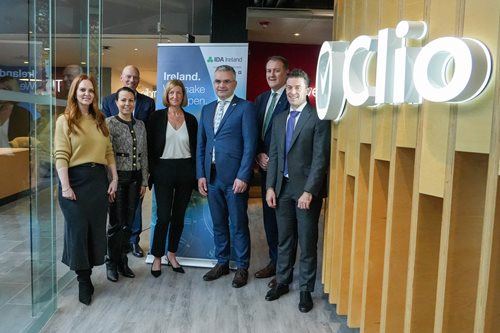 Clio, the world's leading provider of cloud-based legal practice management software, proudly celebrates its 10th anniversary of operations in Dublin, Ireland. This milestone underscores Clio's commitment to transform the legal experience for all, and marks a decade of incredible growth, innovation, and partnerships across Europe.
Clio originally planted its Dublin roots in 2013, recognizing Ireland as a hub of technology and talent that would assist the company in servicing its growing European customer base. The office has since been pivotal to Clio's global EMEA operations, contributing significantly to the development, sales, and support of products that are now used by over 150,000 legal professionals in over 100 countries.
"Dublin holds a significant place on our strategic map, serving as a vital hub for our operations. Here, we've encountered a rich ecosystem of exceptional talent, a thriving cultural scene, and a robust entrepreneurial spirit that has contributed to our global success," said
Ronnie Gurion, Chief Operating Officer at Clio.
Clio's products, Clio Manage, Clio Grow, and Lawyaw, have won numerous accolades and are approved by more than 100 bar associations and law societies worldwide. Additionally, the Dublin office has also garnered several workplace awards, reflecting Clio's dedication to fostering a supportive and inclusive work environment.
Clio's ten-year presence in Dublin has had a positive economic impact on the region, employing a diverse team of professionals, and has contributed to the local economy through partnerships, community service, and philanthropy. Globally, Clio employs almost 1000 people across five office hub locations.
The Dublin office plays a crucial role in developing products and services aimed at making legal services more accessible. The company plans to continue to expand its Dublin team, invest in local talent, and continue contributing to Ireland's legal tech ecosystem.
Minister Dara Calleary TD said:
''Congratulations to the Clio team on reaching their ten year milestone in Ireland. Having created over 45 jobs to date and with plans to see this number increase over the next few years, it is great news for all involved. Clio continues to contribute to the legal tech ecosystem in Ireland and helps to showcase the important role of technology to improve and enhance business operations across all sectors. I wish the team continued success.''
"We at IDA Ireland are delighted to celebrate Clio's 10-year anniversary in Ireland. Clio's commitment to innovation contributes to Ireland's reputation as a global tech hub but also fosters economic growth. Their journey over the past decade, hiring over 40 employees in Ireland, serves as a testament to the strong relationship between foreign direct investment and local talent here," commented
Michael Lohan, CEO, IDA Ireland
, in support.
.