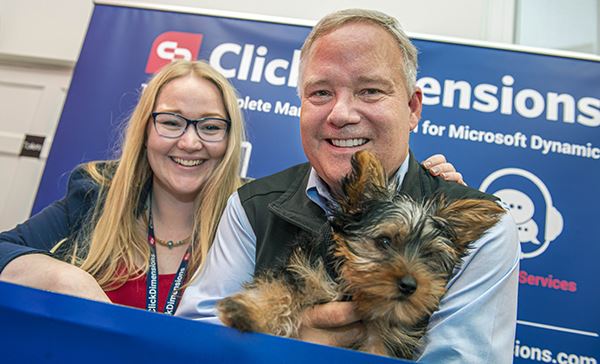 Cork, September 16, 2019 - ClickDimensions, the leading marketing technology and services provider for Microsoft Dynamics 365, today announced the official opening of its new European Customer Operations Centre of Excellence in Cork, Ireland. ClickDimensions CEO Mike Dickerson and other company executives will be joined by guest of honour Minister of State David Stanton TD, IDA Ireland executives, and members of the local government and business community to celebrate the opening at a ceremony in the new office on 10 South Mall today.

ClickDimensions is supported by the Irish Government through IDA Ireland. The company currently employs 22 people in its Cork office and plans to grow its local headcount over the next two years to 50. Employees in the Cork office will focus on providing digital marketing services, technical support, applications engineering and customer success to support ClickDimensions' growing European customer base.

Welcoming the company to Cork, Minister of State at the Department of Justice & Equality, David Stanton TD said "Cork continues to attract high growth, technology companies due to its vibrant business ecosystem. Technology is central to the Government's plans for jobs and growth, and in the past two years a substantial number of jobs have been created in this area. ClickDimensions is a dynamic, innovative company and today's announcement highlighting their presence and future growth plans in Ireland is a major vote of confidence."

Mike Dickerson, CEO of ClickDimensions, said, "Through our global presence, we help marketers worldwide create great experiences using Microsoft technology. We are excited to celebrate the opening of our new office in Cork, a cutting-edge and forward-thinking city that mirrors who ClickDimensions is as a company, so we can better serve our EU customers and partners and ensure that they get the most out of their relationships with us."

Commenting on the announcement Martin Shanahan, CEO, IDA Ireland said
"Cork is a tech hub within Ireland employing thousands of people and adding significantly to the local economy. The addition of ClickDimensions to the tech cluster in Cork is very welcome news and on behalf of IDA Ireland I wish them continued success at this time of international growth. "
Known for its powerful marketing automation platform that is natively built inside Microsoft Dynamics, ClickDimensions recently launched a managed marketing services offering that provides the expanding breadth of digital marketing skills and flexible staffing that customers need to achieve their goals. Through its recent acquisition of marketing dashboard leader Sweetspot, ClickDimensions will soon offer its customers easy, on-demand access to analyze and optimize campaign, channel and revenue-impact performance data, including data from Microsoft Dynamics.

About ClickDimensions
ClickDimensions is the only complete marketing solution for Microsoft Dynamics, made exclusively for and natively built within the Dynamics environment. The company combines multi-channel marketing automation technology, a marketing dashboard for deeper insights into marketing results and revenue impact, and a full range of world-class support and services – all designed to ensure success for marketers at organizations that use Dynamics 365. For more information, visit http://www.clickdimensions.com, follow @ClickDimensions on Twitter or email press@clickdimensions.com.