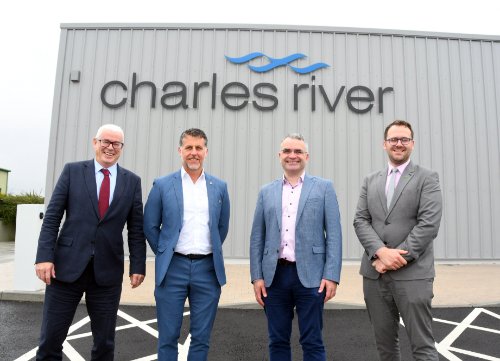 Charles River Laboratories International, Inc., a highly respected, global provider of drug discovery and non-clinical development solutions, today announced the completion of a €10M expansion of its testing capabilities at its Ballina, Co. Mayo site. The new Nearly Zero Energy Building (NZEB) certified space provides an additional 1,500m2 of lab space and creates up to 70 new skilled roles over the next two years. This project, which received significant support through IDA Ireland, demonstrates the commitment by Charles River and the Irish Government to meet the growing need for batch release testing of new Cell & Gene Therapies and mRNA platform therapies, such as the COVID-19 vaccines.
This expansion is the latest in a series at the Ballina site, where additional Good Manufacturing Practice (GMP) facilities and capabilities have been added in analytical, cell culture, vaccine support and other specialised Biologics services. The Company has established a dedicated laboratory space with Biosafety Level-3 (BSL-3) containment to handle testing of SARS-CoV-2 (the viral strain causing COVID-19) and other similar pathogens that cause human disease. This further investment in enhanced facilities and continuous staff development provides the increased range of testing services required by the international biopharmaceutical industry.
Liam McHale, site director for Charles River Ballina said:
"We see the continued and dramatic growth of the life sciences sector with the manufacture of advanced modalities, including cell and gene therapies, and Ireland, the world's third largest exporter of pharmaceuticals, continues to be at the forefront. Charles River's commitment to Ireland has allowed us to stay at the forefront of batch release testing requirements for new therapeutics, and has culminated in the opening of our new state of the art analytical laboratory. Our expanded facility will provide us with the increased capacity needed to continue the essential services we provide to our clients and represents an industry transition from in vivo to analytical testing."
In addition to the completion of it's €10M laboratory expansion, Charles River Ireland is demonstrating its commitment to the workplace culture by announcing its transition to a four day working week. In a pilot study of companies in the United States and Ireland trialing a four day working week, 4 Day Week Global found that two thirds of employees reported less burn-out, along with self-reporting higher levels of work ability.
McHale added: "We are focused on enhancing our workplace culture and have recently transitioned to a four day working week. This provides our employees with improved work-life balance, with the ultimate goal being supporting both their careers and their individual priorities. After completing a successful pilot period, we realized it was possible to remain a full-time business, while allowing our employees this flexibility."
IDA Ireland CEO Michael Lohan said:
"Back in 2021, Charles River Laboratories announced its central testing and validation role in supporting the production of COVID-19 vaccines here at its Ballina facility. It's terrific to see the completion of this €10M investment in the expansion of the facility. I also welcome the company's ongoing recruitment plans to add 70 new roles over the next 2 years. Winning jobs and investment in regional locations is central to IDA Ireland's strategy."
Welcoming the announcement,
Minister of State for Trade Promotion, Digital and Company Regulation, Dara Calleary TD, said:
"I'm delighted to support and welcome Charles River Laboratories significant investment here in Ballina on behalf of the Irish government. Today's announcement marks the company's ongoing commitment to Ireland and patients around the world. I also welcome the commitment to support workers and work-life balance by introducing a 4-day work week. Employee wellbeing is an important element of business success, and it is great to hear how this transition has benefited all.
"The life sciences industry makes a hugely significant contribution to the national economy in terms of jobs and exports. The expansion here in Ballina is an endorsement of Mayo and the wider West region as a location of choice for businesses to invest, grow, and crucially, to succeed. I want to wish the team every success in this exciting next phase of development."