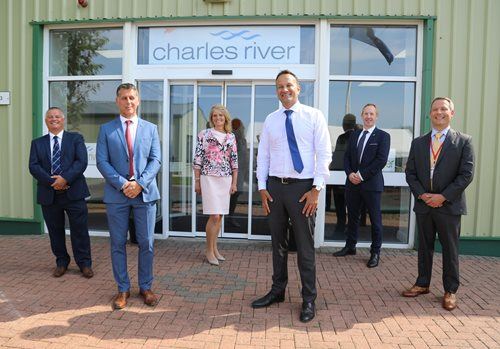 July 23, 2021. Ballina. Contract research organisation Charles River Laboratories International Inc. today announced plans for an €8M expansion of its testing capabilities at its Ballina, Co. Mayo site that will give an additional 1,500m2 of lab space and create up to 90 new skilled roles over the next three years.
Charles River Laboratories and AstraZeneca have maintained a strategic partnership since 2012, providing AstraZeneca with outsourced regulated safety and development support on a range of treatments and vaccines, including testing and facilitating the deployment of the vaccines Vaxzevria for COVID-19 and Fluenz for seasonal infleunza.
This project is supported by the Irish Government through IDA Ireland.

Tánaiste and Minister for Enterprise, Trade and Employment, Leo Varadkar TD welcomed the announcement, saying: "I'm really pleased that Ballina will play such an important role in the production of COVID-19 vaccines, which have saved millions of lives around the world. Charles River looks forward to continuing its ongoing partnership with AstraZeneca. It was great to join the team today, to see the facility for myself and congratulate them on this really significant expansion, which will see an €8m investment, creating 90 new jobs for Mayo. Ireland is globally recognised as a hub for the Life Sciences sector and this news is a real vote of confidence in us and our capacity."

This announcement follows earlier expansions at the Ballina site where additional Good Manufacturing Practice (GMP) facilities and capabilities have been added in analytical, cell culture, vaccine support and other specialised Biologics services. The Company most recently announced plans to establish a dedicated laboratory space with Biosafety Level-3 (BSL-3) containment to handle testing of SARS-CoV-2 (the viral strain causing COVID-19) and other similar pathogens that cause human disease. This further investment in enhanced facilities and continuous staff development provides the increased range of testing services required by the international biopharmaceutical industry.
The Ballina facility was first established in 1974 and was acquired by Charles River in 2002. Over the years it has added to its capabilities offering a comprehensive package of GMP services in support of recombinant biologics, vaccines, cell and gene therapies, biosimilars, and medical devices. Charles River now employs 230 people at two facilities in Ireland: the site in Ballina Co. Mayo which focuses on biologics testing, and a site in Dublin, established in 2017, which serves as the EMEA and APAC headquarters for the Company's Microbial Solutions division.
Liam McHale, site director for Charles River Ballina said: "We are incredibly proud of the transformational changes we have implemented on site and the role that Charles River has played in supporting the safe and timely rollout of AstraZeneca's COVID-19 vaccine. Throughout the pandemic, our site remained fully operational while keeping our employees safe and having a positive impact on human health. Our expanded facility will provide us with the increased capacity needed to continue the essential services we provide to our clients"

Charles River Ballina, through the Corporate Citizenship programme, has continued to support worthwhile causes in the local community and has funded a number of organizations, including the Mayo Roscommon Hospice, the River Moy Search & Rescue and the Ballina Community Clean Up Volunteer Organisation who have helped develop a local sensory garden. Additionally, Charles River provides paid time-off for its employees to volunteer for charitable and community organisations.

Dan Wygal, Country President for AstraZeneca Ireland, said: "I want to congratulate Charles River on their exciting plans to expand their Ballina site. Charles River is a long-standing strategic partner to AstraZeneca and have provided us with critical support in response to the pandemic. Our COVID-19 vaccine, Vaxzevria, undergoes extremely robust safety and quality testing prior to becoming available for patients. We are committed to bringing safe, effective vaccines to Ireland and other markets as quickly as possible, and Charles River will continue to be an important partner in this regard."

IDA Ireland Executive Director Mary Buckley said: "Charles River is an employer of long-standing in Co. Mayo. The enhancement of its product lines and the development of additional capability at the Ballina facility is most welcome. Today's announcement is strongly aligned to IDA Ireland's Regional pillar and its continued commitment to winning jobs and investment in regional locations. I wish Charles River every success with this expansion."

END