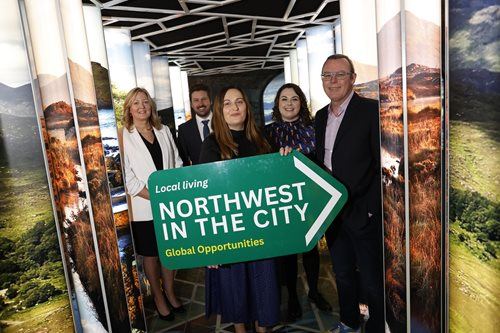 'Northwest in the City' event at Dublin's Westbury Hotel on February 9th, 2023
Region has undergone huge change, offering a host of new opportunities
Career-driven professionals based in Dublin and the East coast will next month get the chance to learn more about life in the Northwest of Ireland and the array of exciting new opportunities open to them in the region.
'Northwest in the City' is a collaboration organised by regional stakeholders to promote the Northwest and spotlight the many positive transformational changes made in recent years.
The event, at Dublin's Westbury Hotel on February 9th, will deliver a simple message: You can land a global career with a leading company and enjoy the best of 'local living' by moving to the Northwest.
The event will provide an opportunity to meet face to face with the executives leading the Northwest's top multinational and indigenous companies. Mid to senior level professionals will learn about the global customer base serviced from the region along with the array of career opportunities available.
Key agencies led by IDA Ireland, Enterprise Ireland and the Western Development Commission (WDC), under the North West Regional Enterprise Plan, have teamed up with some of the Northwest's biggest employers for the event.
Industries represented include Biopharma, MedTech, Advanced Manufacturing, Technology and International Financial Services.
More than 20 global multinationals and leading Irish companies are expected to attend 'Northwest in the City' including Optum; Tata Consultancy Services (TCS); AbbVie, VistaMed, SL Controls; Cora Systems, Overstock, Avenue, FinTrU and many more.
Donegal, Sligo and Leitrim are home to more than 50 multinational companies that have set up in the region and scaled their international operations. The Northwest is also home to indigenous entrepreneurs who have chosen to build and grow their own international companies of scale, including LotusWorks, King & Moffatt, E&I Engineering and Cora Systems.
As well as showcasing senior roles including those in automation, biologics, machine learning and investor services; attendees at 'Northwest in the City' will have the chance to network with senior industry leaders and hear from their peers who have previously relocated to the region.
The regional agencies and local authorities will be on hand to offer more practical advice on connectivity, transport, relocating and educational options. Public sector organisations such as Atlantic Technological University (ATU) will also outline latest research and innovation projects and the current opportunities that exist.
Working patterns have seen seismic changes in recent years, with a career and life in the Northwest proving increasingly attractive for senior professionals.
Commenting on the 'Northwest in the City' initiative, Minister for Enterprise, Trade and Employment, Simon Coveney T.D said: "'Northwest in the City' is a terrific example of a regional initiative driven by the Government's enterprise agencies under the collaborative umbrella of the Northwest Regional Enterprise Plan. The event will see the side-by-side participation of leading multinationals and fast growth indigenous companies promoting the region. Regional Enterprise Plans provide an opportunity to complement and translate national enterprise policy in a regional context."
Minister of State for Trade Promotion and Digital Transformation, Dara Calleary T.D, welcomed the event stating: "Enterprises in the Northwest region are driving transformative growth in industry clusters such as regtech, fintech, advanced manufacturing, marine and offshore wind energy. The global industry leaders, based across Donegal, Leitrim and Sligo are providing diverse senior level roles in engineering, applied sciences, logistics, supply chain management and more, with attractive and significant career progression opportunities. As we see a continuing rise in employment figures in high value jobs in the Northwest, this event offers a unique chance for senior executives to engage directly with industry leaders in the region to explore the current roles and potential future business opportunities."
Ray O'Connor, Head of Regional Business Development, IDA Ireland, said: "The Northwest is synonymous with beautiful scenery, outdoor activities and quality of life. But the region offers so much more. World leading Pharma, MedTech, Technology, Engineering and International Financial Services companies have operations located throughout the region. In fact, in 2022, FDI employment grew by 6.3% in the Border region and many companies are actively recruiting.
Méabh Conaghan, Regional Director West and Northwest Regions, Enterprise Ireland, added: "The Northwest hosts a growing number of innovative, scaling and internationally focused Irish companies across a range of sectors including, software, technology, financial services, advanced manufacturing, health, food and nutrition. These companies are servicing global customers and offer attractive career opportunities for highly skilled individuals in a range of roles. This event will provide a great opportunity to meet some of these fast-growing companies and learn about the exciting career opportunities that they have on offer."
Allan Mulrooney, Interim CEO of the Western Development Commission, commented: "The post-pandemic future of work is one that requires attracting and retaining the best talent. Building on the transition to remote work, more and more people are seeking to progress their career not just in major cities but across the country with the Northwest offering the perfect balance. The emergence of a cross-border city region and the future development of a huge renewable energy resource offshore point to a growing region with an array of career opportunities on Ireland's Atlantic coast."
Speaking on behalf of one of the Northwest's largest employers, Andrea McBride, Head of the TCS Letterkenny Global Delivery Centre, said: "At Tata Consultancy Services, we're looking forward to meeting with experienced professionals open to the possibilities of a new life, working and living out of the Northwest region of Ireland. With our operations in the Northwest, we can truly offer the best of both worlds; a globally focused, progressively supported career in one of the world's top-performing IT businesses and a quality of life off the beautiful Atlantic coast and all that this provides."
*Click here to register for the event: https://Northwest-in-the-city.eventbrite.co.uk
For more information or to arrange interviews, contact StoryLab 01 685 3029