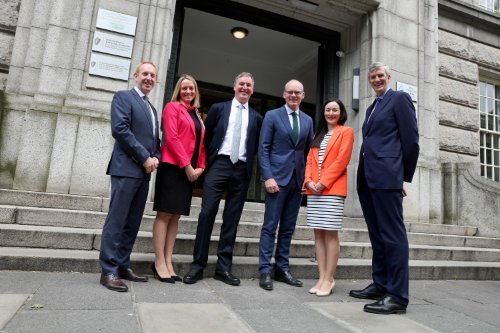 Digital Research & Development (R&D) Hub to focus on AI, machine learning, and data analytics
€8 million investment, with support from IDA Ireland, will initially lead to the creation of 30 new specialist digital R&D roles
DUBLIN, May 30, 2023
- BNY Mellon today announced the establishment of a new Digital R&D Hub in Dublin that will drive innovation in the areas of artificial intelligence (AI), machine learning, and data analytics for BNY Mellon clients globally.
The development includes an initial €8 million investment, with support from IDA Ireland, which will strengthen BNY Mellon's role as a leader in developing AI technologies and expand on existing technology capabilities located in Ireland. The investment will also lead to a more than doubling of the digital team in Dublin and the initial creation of 30 specialist jobs by the end of 2025.
Having a leading-edge firm such as BNY Mellon choose Dublin for its Global Digital R&D Hub is a real vote of confidence in Ireland and our talented workforce,"
said Simon Coveney, Ireland's Minister for Enterprise, Trade and Employment.
"The €8m investment will allow for exciting research in AI technologies and data analytics to support their clients' needs."
"Delivering innovative solutions for clients has been at the heart of BNY Mellon's long and proud history in Ireland for almost three decades,"
said Paul Kilcullen, BNY Mellon CEO of Funds Services Ireland and Ireland Country Manager.
"This investment reinforces BNY Mellon Ireland's position at the leading-edge of financial services research and development and helps cement Ireland's position at the forefront in driving innovation in the financial services sector globally."
"Today's announcement of a new Digital R&D Hub in Dublin is a great sign of commitment by BNY Mellon to their Irish operation,"
said Michael Lohan, CEO of IDA Ireland.
The decision to create 30 specialist digital roles here is a vote of confidence in the talent and skillset that they have found in Ireland on their journey so far."
BNY Mellon's increased investment in leading edge innovation, development and delivery has resulted in the filing of the highest number of patent applications in the bank's history last year.
Developers in Ireland recently contributed to BNY Mellon's Predictive Analytics for Trade Settlement, which uses AI and other innovative technologies to help the industry better predict settlement failures. The initiative was recently recognised at the prestigious Gartner's Eye on Innovation Awards.
BNY Mellon employees in Dublin, Cork and Wexford offices work to deliver a broad range of services to traditional and alternative asset managers, banks, pension funds, insurance companies and corporates, including asset servicing, alternative investment services and corporate trust.
BNY Mellon is seeking to recruit a range of AI and technology specialists in Ireland, including experienced data scientists, and product and design thinking specialists. Based in Ireland, the team will help deliver on the bank's European and global R&D ambitions.
Building on the exciting STEM momentum in Ireland with focus on the next generation of talent development, the Digital R&D Hub in Dublin will also collaborate with education bodies to sponsor and support advance AI research, providing career and mentoring opportunities to graduate students.
About BNY Mellon
Established in 1784, BNY Mellon is America's oldest bank and the first company listed on the New York Stock Exchange (NYSE: BK). Today, BNY Mellon powers capital markets around the world through comprehensive solutions that help clients manage and service their financial assets throughout the investment life cycle. BNY Mellon had $46.6 trillion in assets under custody and/or administration and $1.9 trillion in assets under management as of March 31, 2023. BNY Mellon has been named among Fortune's World's Most Admired Companies and Fast Company's Best Workplaces for Innovators. BNY Mellon is the corporate brand of The Bank of New York Mellon Corporation. Additional information is available on
www.bnymellon.com
. Follow us on
LinkedIn
or visit our
Newsroom
for the latest company news.