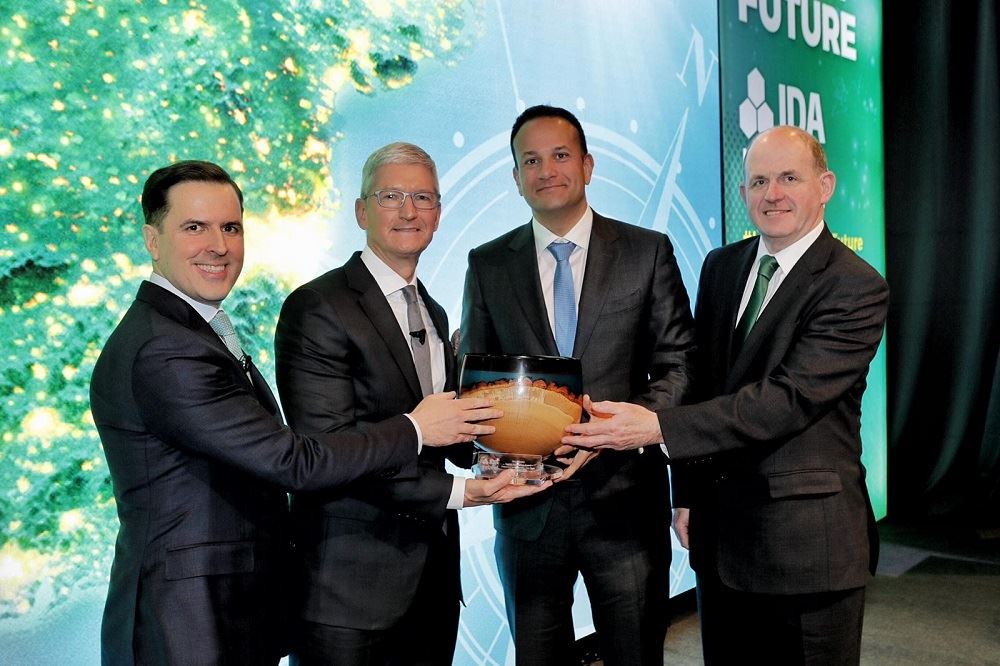 Special Recognition Award "recognises the contribution of FDI to Ireland" - IDA Ireland CEO Martin Shanahan
IDA 'looking to the Future' event showcases Irish Tech Talent
Monday, January 20th 2020 | 1000hrs | Dublin - IDA Ireland's inaugural 'Special Recognition Award' recognising the contribution of our clients to Ireland was presented by An Taoiseach Leo Varadkar and IDA Ireland to Apple and accepted by its CEO Tim Cook, at a special 'Looking to the Future' event in the National Concert Hall this morning.
CEO of IDA Ireland Martin Shanahan said: "We are introducing this annual Special Recognition Award as we believe it is important that we celebrate the huge contribution our 1500+ FDI companies have made to Ireland. Foreign Direct Investment continues to be a substantive driver of the economy. Our client companies in Ireland have demonstrated longevity, resilience and continued commitment, creating jobs – the numbers directly employed in the multinational sector in Ireland is at an all time high of 245,096 (10% of the Irish labour force) - and delivering enormous benefits to the national and regional economies. In introducing this award, we are also recognising the achievement that is Ireland's proven ability to be an enduring partner for businesses with international ambitions. It is also an opportunity to showcase internationally the level and sophistication of FDI in Ireland.
Apple has invested and reinvested in Cork over 40 years now – Apple's Cork site is an example of what is possible when a great company finds an exceptional pool of talent. Apple and its CEO have demonstrated continued commitment to Ireland over that 40 years – making Apple a very deserving recipient of this inaugural award. Having established in Cork in 1980 as its first operation in Europe, with 60 employees, the company has grown to become the valued employer of some 6,000 people in quality jobs that it is today. Those 6,000 employees, including over 20 people who have been working at Apple for more than 35 years, are performing a wide variety of functions across Apple's global operations, building skills and expertise and contributing to the company's global success. The impact of Apple's investment and innovation extends far behind its own campus to the hundreds of companies and merchants of all sizes, across the country who benefit from Apple's presence in Ireland."

This award is also an appreciation of the work that everyone at Apple in Ireland does in helping bring the most innovative products to customers and providing incredible support for customers around the world. It also recognises Apple's commitment to Ireland and the schools and charities where so many of Apple's team volunteer their time to benefit local communities.

An Taoiseach, Leo Varadkar said: "Only four years after it was founded, Apple opened a factory in Hollyhill in Cork, employing 60 people. Today Apple is Cork's largest employer with 6,000 people of over 100 different nationalities and is a global operation.

During this period Ireland has become the tech capital of Europe. We succeeded by looking to the future, opening our country to trade and competition.

As a country we continue to look to the future. With Global Ireland 2025 we are doubling our footprint across the globe, opening new embassies and consulates, expanding some of the ones we currently have, and investing in agencies like IDA Ireland, so we can attract investment from outside our traditional target markets. We are particularly focused on attracting investment to locations outside of Dublin.

This inaugural award recognises the contribution Apple has made to Ireland over the past 40 years, and it reminds us of all that can be achieved."


Tim Cook, Apple's CEO said: "Ireland has been a second home for Apple for forty years and this honour is even more special for us because it recognizes the contributions of our incredible team here who work tirelessly to serve our customers around the country, and around the world. I believe deeply that our most important work together is still ahead of us, and I'm grateful to the people of Ireland for their commitment to openness, to innovation and to the cooperation that will make possible the next generation of world-changing ideas."


An Taoiseach addressed the 1000-strong audience of invited guests drawn from IDA client companies, key stakeholders, business people as well as some Apple and IDA Ireland employees and presented the award to Tim Cook alongside Martin Shanahan and IDA Chairman Frank Ryan. This was followed by a keynote address from the Apple CEO and a conversation with Tim Cook and Martin Shanahan.

The event included a panel discussion with four young Irish entrepreneurs; Shane Curran, Ciara Judge, Harry McCann and Ciara-Beth Ní Ghríofa, on the topic 'Using Technology for Social Good'.

IDA said that the event would showcase internationally Ireland as a location for FDI and focus on the excellent Irish Tech talent that is available.

ENDS

Contact
Kevin Sammon
Director of Global Communications
IDA Ireland
+353876188564
kevin.sammon@ida.ie

Ellen Lynch
Press & PR Manager
IDA Ireland
+353874112084
ellen.lynch@ida.ie
Note to Editors
About FDI

Pursuing Foreign Direct Investment (FDI) for the last 70 years has achieved remarkable results for Ireland. Through the hard work and resourcefulness of the Irish people, Ireland has attracted investment and jobs at a level far beyond what would be expected of a small island.

Numbers directly employed in IDA client companies are now at an all-time high of 245,096, accounting for 10% of the labour force. IDA client companies created over 112,000 jobs directly in the five-year period 2015-2019.

IDA client companies inject approximately €21.5bn into the economy annual in payroll and procurement of Irish materials and services. IDA clients contribute two-thirds of total corporation tax and one third of the private sector's combined income Tax, USC and Employer PRSItax contributions which helps fund important infrastructure including public transport, our health and education systems.

The award presented to Apple CEO Tim Cook

The Special Recognition Award is a carved wooden and resin bowl crafted by Irish artist Kathleen Walsh.

Kathleen, who grew up in Wexford, studied Art at the Waterford Institute of Technology. She currently works in the Institute of Art, Design & Technology in Dun Laoghaire as a model making and design technician. The materials used to create the Special Recognition Award is turned from naturally fallen Irish sustainably sourced oak wood. Using traditional techniques and materials combined with modern processes and technologies, Kathleen worked with the unique characteristics of the wood and casting resin to form the striking contemporary piece.


Panellists for discussion on the topic 'Using Technology for Social Good'
Shane Curran
evervault is building a data protection solution aimed at developers, by way of an API, which aims to bake data protection into the app from the start. evervault can be implemented into any app or piece of software that uses PII (personally identifiable identity), to help developers build encrypted "data cages" to handle the information from the moment it's ingested, they want to bake privacy into the product. Evervault makes a service more secure with regards to personal data in a way that doesn't compromise the experience for the user, or the app/software company itself.
Shane Curran first conceived of the idea that became evervault two years ago, as the basis of what became his top-prize-winning submission for the BT Young Scientist & Technology Exhibition, an annual competition in Ireland. (His original description of the tech was this: "qCrypt: The quantum-secure, encrypted, data storage platform with multijurisdictional quorum sharding technology.")
evervault recently raised €3m from investors, including Sequoia and Frontline, to develop its cloud-based secure-processing system, which takes privacy away from compliance departments and turns it into product.

Ciara Judge
Ciara Judge is an Irish science communicator, scientist and entrepreneur. As a young teenager she was part of a team that won the BT Young Scientist, the EU Young Scientist and the Google Science Fair for her scientific research, and in 2014 TIME Magazine named her as being one of the 25 most influential teens worldwide.
In early 2015 she co-founded her first company, Germinaid Innovations, with her friend Emer Hickey. The company gained traction over the following two years which resulted in a year-long partnership with Bill Gates' Intellectual Ventures in Seattle during the 2016/17 academic year. She also has co-founded a second start-up PurchaseMate and is on the board of directors of the UN's YouthCorp Initiative. In addition to her background in the technology and entrepreneurship sector, Ciara also has a keen eye on the world of activism, and in 2016 was named a Global Teen Leader by the We Are Family Foundation for her efforts in the fight against world hunger. In November 2016, Ciara was named by Junior Chamber International as being among the ten most Outstanding Young People in the World and was honoured at their world congress in Quebec.
Ciara is now entering her fourth year as a BSc Genetics student at University College Cork, where she has been awarded a Quercus Innovation and Entrepreneurship Scholarship as a result of her extracurricular activities.
Ciara is a strong believer in the ethos that young people are just as able, if not more able, to change the world as adults and spreads this message by speaking at events and conferences worldwide. Some notable people in her audiences have included President Jimmy Carter, Bono, President Michael D. Higgins, and Bill McDermott, CEO of SAP Worldwide.



Ciara-Beth Ní Ghríofa
Ciara-Beth is on a mission to prove to the world that Autism doesn't define a person. She is currently studying a BA in Psychology and Computing in UCC on a Quercus Innovation/Entrepreneurship Scholarship. She received the scholarship as a result of her creation of an app called "MiContact", which aims to help people who are on the Autism Spectrum learn to make and maintain eye contact in a way that is comfortable to them. As a result of her app she has travelled the world to work with UNESCO and was honoured to be named a 2018 Global Teen Leader with the We Are Family Foundation. She launched to MiContact in early 2019 and continues to develop digital resources to help people on the Autism Spectrum.
The app and initial study won Ní Ghríofa the Abbott 'Life to the Fullest' Award at the BT Young Scientist and Technology Exhibition in 2017 and she went on to take part in – and win – the BT Young Scientist Business Bootcamp that year.
Since her success at the BTYSTE, Ciara-Beth has been busy presenting at the UNESCO Child and Family Research Centre Empathy Conference in NUI Galway, being a representative at the UNESCO Youth Forum in Paris and taking part in the Three Dot Dash incubator programme in New York for social enterprises.

Harry McCann
Harry McCann is a twenty-one-year-old award-winning Irish entrepreneur. In 2014 just after his fifteenth birthday, Harry started his first business, Kid Tech. Over the space of a year, Harry set out to 'Teach the Next Generation Tech' through a number of short courses which he designed and created. Thanks to the support of British actor, Stephen Fry, and technology giants, Blackberry, Harry had the opportunity to travel across Ireland to introduce almost one thousand kids to computer coding. In 2015, Harry went on to establish the first Digital Youth Council in the world.
His work as an entrepreneur and a thought leader has made him one of the most influential young people in STEM, education, youth affairs and technology. Harry has received a number of awards and honours in recognition of his work over the years, the most notable being the JCI Ten Outstanding Young Persons in the World Award in Amsterdam in 2017.
Harry currently studying Digital Humanities and IT at the University College Cork where he was awarded a Quercus scholarship for his work in entrepreneurship and innovation in 2017. Last year, Harry launched his latest venture, Trendster Media, and he is currently leading a talented young team in an effort to revolutionise the media industry. In 2018, Harry was also appointed as an EU Ambassador for the #SaferInternet4EU campaign by the European Commissioner for Digital Economy and Society, Mariya Gabriel.