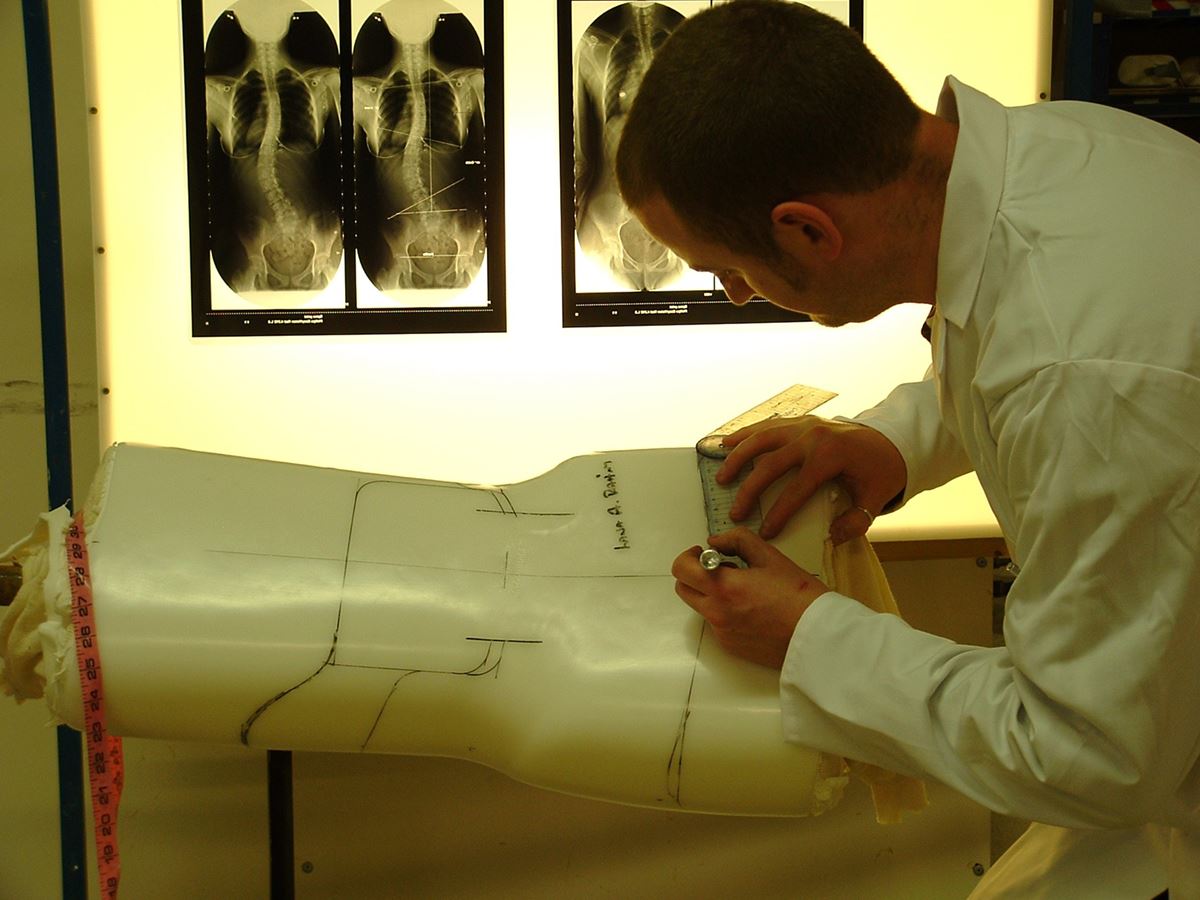 The company, which manufactures spinal braces for the treatment of adolescent idiopathic scoliosis (AIS) and distributes a range of other medical devices in the UK on behalf of its Swedish parent, traces its origins to the pioneering work of a surgeon in Boston Children's Hospital in the 1970s.
"AIS predominantly affects adolescent females", said managing director Peter Roe. "There are other types of scoliosis. In this case, idiopathic means there is no known cause. If it is discovered before it gets to a certain severity, it can be treated without surgery.
"The patient wears a brace over a number of years until they reach skeletal maturity. The goal of brace treatment is to minimise curve progression during growth and therefore prevent the need for surgery."
The braces in use up until the 1970s were heavy, uncomfortable and often painful for a patient to wear, however. "Up until then, the non-operative treatment was quite archaic", Roe explains. "The brace was a difficult, hard to wear mix of leather and metal – it was almost Frankenstein like. Then Prof John Hall, who was chair of orthopaedic surgery in Boston Children's Hospital, worked with orthotist Bill Miller to come up with a novel symmetrical polypropylene system which was lighter and much less intrusive than the previous braces."
The new system took several years to develop and perfect and was patented in the mid-1970s. "Miller left Boston Children's Hospital and set up Boston Brace International to progress it", Roe continued. "It has become accepted worldwide as the gold standard non-operative treatment for AIS. Miller spent a lot of time travelling the world speaking to medical professionals introducing them to this new way of treating children in a much more humane way."
Roll on a couple of decades and the company had grown to the extent that it decided it was necessary to set up a manufacturing facility in Europe to serve that market. The company looked at several countries, including Scotland, before deciding on Ireland.
"Thanks to the influence and help of the IDA, as well as factors like our tax regime and positive environment for business, the decision was taken to locate here in Dundalk", said Roe. "That was the mid-1990s and the labour pool here was quite large. Also, Dundalk had legacy of shoe making skills which lent themselves to this industry. We started up in 1995 and replicated the Boston facility on a smaller scale."
The company grew steadily over the next nine years when a change of ownership came about. According to Roe, the company dealt with four key distributors in Spain, The Netherlands, Italy and Sweden at that time and they came together to acquire the Irish operation from its US parent.
The decision was driven by a sense of vulnerability. "They didn't want to lose access to the product in the event of Boston Brace International being acquired or other unforeseen events", said Roe. "Acquiring the Irish company secured their position."
The company continued as BBE Healthcare until 2010 when Camp Group of Sweden decided to buy out the other partners. That was driven by commercial considerations in the UK market.
"Camp has a range of other non-spinal medical devices which it was selling into the UK through a distributor at the time", Roe explained. "The distributor was good, but wasn't exclusively focused on Camp products. An obvious solution was to acquire a company which was already selling directly into the UK and use it to distribute their products there. It is as easy to sell into the UK from Dundalk as it is from Doncaster and they decided to use us as a launch pad for Camp products in the UK."
This saw another name change and added a new dimension to the business. "We changed our name to Allard Support UK, that's the name of the family which owns Camp", said Roe. "And we became the distributor for their range of non-spinal products in the UK. That was a big change; we doubled staff to 20 and added a 6,000 sq ft extension to our premises. Things have gone great since and we have been extremely successful in the UK. We started selling into the UK in May 2011 and have been growing at a double-digit rate since 2012."
The future prospects appear good for Allard in Dundalk. "We have a fantastic product development team in Sweden, and this ensures that we will have a constant supply of new products to bring onto the market", said Roe. "Our marketing strategy in the UK is based on education and we run a lot of seminars all around the UK for health service staff and consultants every year."
Development is also continuing on the spinal brace side of the business. "We work with the leading children's hospitals in Britain such as Great Ormond Street Hospital in London and Alder Hill in Liverpool", he continued. "With help from the IDA, we made a significant investment in CAD CAM technology recently. This allows us to take in digital 3D scans from patients around the world and manufacture bespoke braces without the need for a plaster cast. This is already helping to generate new business for us. We have a development team of four here and we are in the process of working on the next generation of the Boston Brace with support from the IDA."
The company has also introduced a new 'night-time' brace under licence from a US spinal orthotic company. "This is a new type of scoliosis brace and we have secured worldwide manufacturing rights for it. The future looks quite positive for us. We are very proud of what we do and of our success over the past 25 years in working with leading medical institutions around the world."
Barry McCall