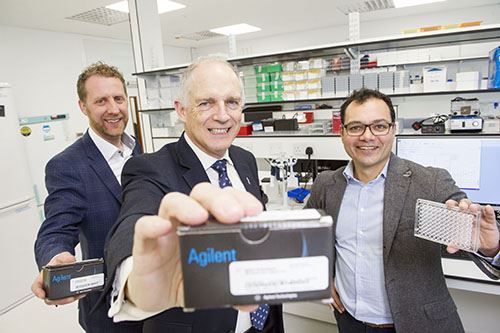 Agilent invests in home-grown business through expansion of R&D facility
Little Island, Co. Cork, Nov. 16, 2018

Agilent Technologies Ireland Ltd. today held the official opening of a new, purpose-built research and development extension to its Little Island, County Cork facility.

The opening of this state-of-the-art research facility is a landmark moment for Agilent Ireland as it integrates recently acquired local start-up biotech company Luxcel Biosciences. Housing both cell analysis and biosensor development capabilities, this not only expands Agilent's reach within the rapidly growing live-cell analysis market but will also further new and innovative technology advancements that will help drive cutting-edge product development for Agilent globally.

"Technology advancements allowing researchers to examine cell health and function kinetically, and in real-time, are driving global demand for complete cell analysis solutions," said Todd Christian, general manager, Agilent Cell Analysis Division. "The Luxcel acquisition underscores Agilent's continued commitment to the cell analysis market and is an important step in expanding our leadership in this field."

"This exciting acquisition significantly enhances our goal of providing broader solutions to our customers in Ireland and beyond," said Eddie Enright, country general manager, Agilent Ireland. "There is a strong cultural fit of innovation and delivering customer-centric solutions between both companies. We are delighted to welcome Luxcel into the Agilent Ireland team."

The investment underlines the pledge of Agilent towards top-tier research and innovation, based on positive collaboration and support of local and European-wide business and academic partnerships.
"This expansion reflects the scale of Agilent's engagement to both internally-driven product development, as well as external collaborations, creating an environment for transformational innovation that is exciting to be a part of and contribute to," said Richard Fernandes, founder, and chief executive officer, Luxcel Biosciences.

The open day highlighted future developments and investments within Agilent, while academic and industry experts showcased the importance of partnerships, and knowledge transfer required to develop and deliver reliable laboratory solutions and workflows, particularly in the life science environment. The morning culminated in a tour of the new facilities.

Agilent welcomed David Stanton, Minister of State at the Department of Justice and Equality in Ireland. Key members from local authority and educational institutions also attended, as well as business representatives from technology and science, and medical/technology organizations.
Officially opening the extension of the facility, Minister of State David Stanton said: "Cork has a well-established life sciences cluster and Agilent Ireland's research facility further strengthens this. I would like to congratulate the team on this important day and wish the company continued success into the future."

"We're excited that Agilent has invested in Ireland," said Martin Shanahan, chief executive officer, IDA Ireland. "Luxcel has partnerships and active research programs in Ireland, and with major EU and UK research institutions. This expansion will not only provide the most up-to-date and advanced solutions for Agilent's customers but will also have a significant positive impact within the Irish and European innovation ecosystem."

About Agilent Technologies
Agilent Technologies Inc. (NYSE: A) is a global leader in life sciences, diagnostics, and applied chemical markets. With more than 50 years of insight and innovation, Agilent instruments, software, services, solutions, and people provide trusted answers to customers' most challenging questions. The company generated revenues of $4.47 billion in fiscal 2017 and employs 14,500 people worldwide.

Information about Agilent is available at www.agilent.com. To receive the latest Agilent news, subscribe to our Newsroom. Follow Agilent on Linked In, Twitter, and Facebook.