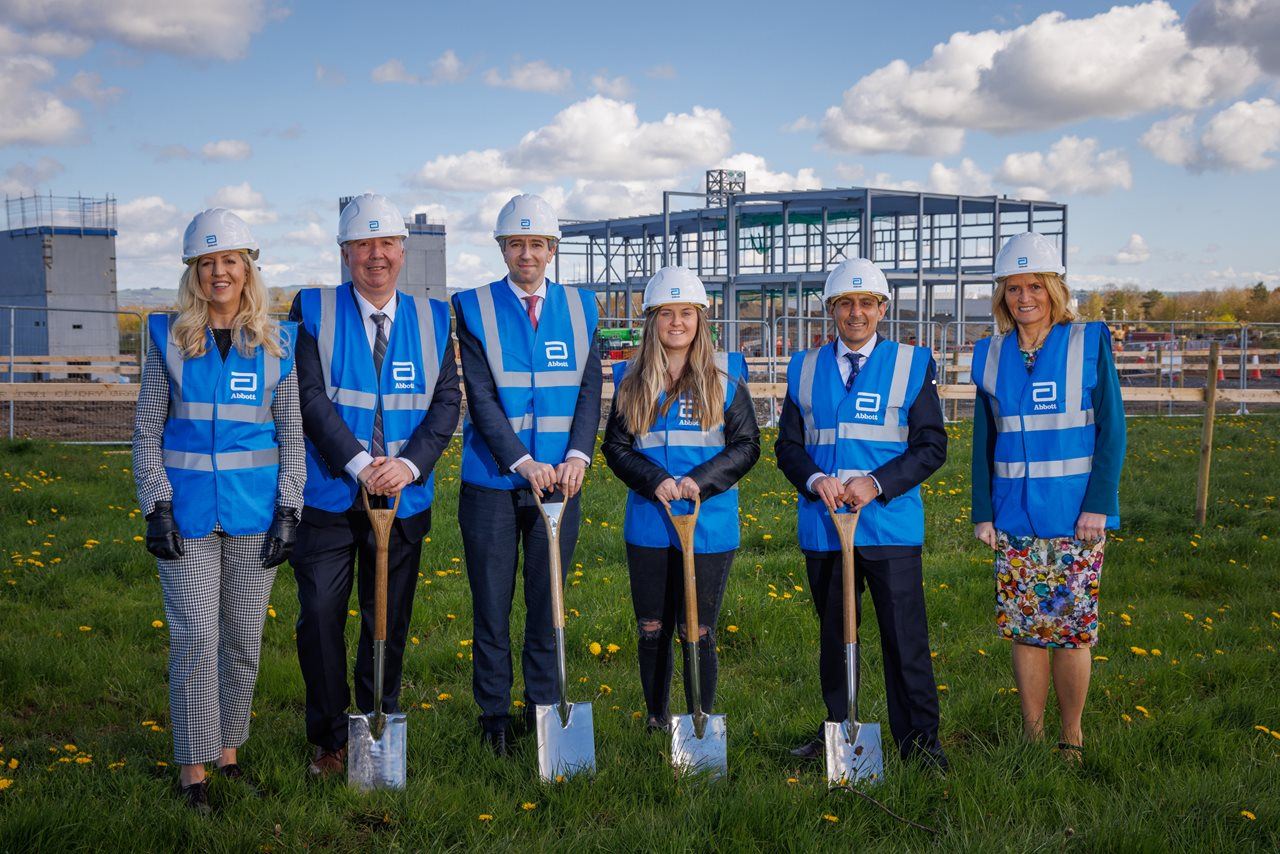 Simon Harris TD, Minister for Justice and Minister of Further and Higher Education, Research, Innovation and Science joins Abbott for sod turning ceremony
Construction commences on Abbott's seventh manufacturing facility in Ireland which will produce its FreeStyle Libre 3 glucose monitoring system, featuring the world's smallest, thinnest1 glucose sensor for people with diabetes
Recruitment under way for hundreds of new jobs, with almost 50 employees already hired
Manufacturing will commence in Kilkenny in 2024
KILKENNY, Ireland, 14 April 2023
– Abbott today welcomed
Simon Harris TD, Minister for Justice and Minister of Further and Higher Education, Research, Innovation and Science
, as well as IDA Ireland and local dignitaries to the site of its new manufacturing facility in Kilkenny, which will be a global manufacturing centre of excellence for Abbott's life-changing FreeStyle Libre 3 continuous glucose monitoring portfolio.
Minister Harris was joined by
Jared Watkin, Senior Vice President of Abbott's Diabetes Care Business
, and they turned the sod on the site to mark the commencement of construction of the 30,000 sqm facility, which will employ in the region of 300 people during construction and more than 800 people by the time manufacturing starts in 2024.
Recruitment for permanent positions is underway and almost 50 employees have already started working in Kilkenny. The new roles will be in engineering, quality control, medical device manufacturing and other science-based areas. The company is actively recruiting and anyone wishing to learn more about the opportunities available or register their interest in working with Abbott, can visit
https://www.abbott.com/careers
Speaking at the event,
Minister Simon Harris, said:
"With a footprint in all four provinces, Abbott has played a leading role over the past 77 years in establishing Ireland as a location for the global medtech sector. This new investment in Kilkenny will add to the high value STEM jobs already created in the South-East region by Abbott at its vascular manufacturing facility in Clonmel. This is an important investment for Ireland, and I am delighted to congratulate Abbott on this new diabetes care manufacturing facility in Kilkenny."
Jared Watkin said:
"Abbott's FreeStyle Libre is the number one sensor-based glucose monitoring system in the world, having changed the lives of 4.5 million people across more than 60 countries by providing breakthrough technology that is accessible and affordable. This new facility, together with our diabetes care facility in Donegal, will help us meet the growing demand and bring new highly skilled jobs to the community."
Abbott announced in August last year that it is investing €440 million in significantly expanding manufacturing operations for its Diabetes Care business in Ireland. In addition to the new manufacturing facility in Kilkenny, the company announced the expansion of operations at its existing facility in Donegal.
The building of Abbott's new facility in Kilkenny is supported by the Irish Government through IDA Ireland.
Mary Buckley, Interim CEO said;
"I am delighted to join Abbott in Kilkenny today at the sod-turning ceremony for its new diabetes care manufacturing plant, which will create c.800 high value jobs many of which are in STEM. This investment, announced last year, is a further testament to the deep roots the company has in Ireland. IDA Ireland's strategy to win investments and jobs in regional locations includes encouraging and supporting established companies to develop additional regional sites and this is a prime example. This new manufacturing facility will deliver a substantial boost to the economy of the South East."
Abbott was one of the first multinational companies to establish in Ireland and is the only one with operations in all four provinces. This new investment will bring Abbott's total employment in the country to approximately 6,000 people across 10 sites, including seven manufacturing operations.
About Abbott
Abbott is a global healthcare leader that helps people live more fully at all stages of life. Our portfolio of life-changing technologies spans the spectrum of healthcare, with leading businesses and products in diagnostics, medical devices, nutritionals and branded generic medicines. Our 115,000 colleagues serve people in more than 160 countries.
Connect with us at
www.abbott.com
, on LinkedIn at
www.linkedin.com/company/abbott-
, on Facebook at
www.facebook.com/Abbott
and on Twitter
@AbbottNews
.
Abbott in Ireland
Abbott serves the Irish market with a diverse range of healthcare products including diagnostics, medical devices and nutritional products. In Ireland, Abbott currently employs over 5,500 people across ten sites. We have six manufacturing facilities located in Clonmel, Cootehill, Donegal, Longford and Sligo and a third-party manufacturing management operation in Sligo. Abbott has commercial, support operations and shared services in Dublin and Galway. We have been operating in Ireland since 1946.
About FreeStyle Libre
Abbott's FreeStyle Libre is the number one sensor-based glucose monitoring system in the world2, having changed the lives of 4.5 million people across more than 60 countries3 by providing breakthrough technology that is accessible and affordable4. Abbott has secured partial or full reimbursement for the FreeStyle Libre system in more than 40 countries, including Canada, France, Germany, Japan, the United Kingdom, and the U.S.5
For more information visit
FreeStyleLibre.ie