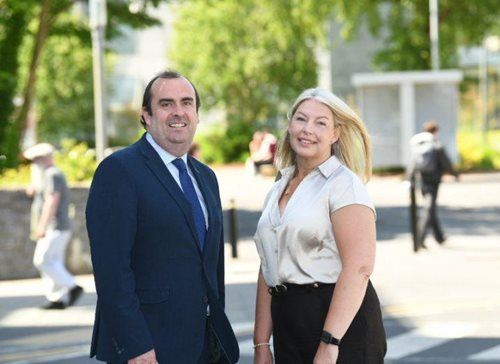 A new institute dedicated to clinical trials is being launched at the University of Galway.
The Institute for Clinical Trials, which will be led by
Prof Peter Doran
, will aim to make the latest clinical research and medicines available to patients in Ireland to improve their outcomes.
Doran joined the University of Galway's College of Medicine, Nursing and Health Sciences earlier this year to become director of the clinical trials institute, overseeing scientists as they work to develop new treatments, medical diagnostics and preventative therapies.
Prof Ciarán Ó hÓgartaigh, president of the University of Galway, said the institute will "chart new paths in research" for the health and wellbeing of people in Ireland and abroad "at their most vulnerable time".
"Research is critical to the healthcare ecosystem. Patients who attend hospitals that are research active have better outcomes," added Doran.
"[This is] due to both increased access to early lifesaving treatments and through the culture that pervades when research and inquiry are at the core of the health systems."
Doran said that the institute will aim to address some of the barriers that prevent indigenous medtech companies from conducting clinical trials in Ireland.
"The cross-sectoral activities of the Institute for Clinical Trials will be nationally distinctive, will align with Ireland's regional development strategies and will enhance economic competitiveness by attracting investment, jobs and talent."
Compared to similarly-sized countries such as Denmark and Finland, Ireland attracts significantly
fewer clinical trials
, accounting for only an 18pc share between the three nations, compared to Finland's 29pc and Denmark's impressive 53pc.
This is
according to a survey
conducted last year by the Irish Pharmaceutical Healthcare Association, which collected and analysed clinical trial data between 2013 and 2021 from a database provided by the US Library of Medicine.
The institute is being officially launched by Noreen Doyle, an entrepreneur and parent of two of children who survived cancer in their childhood thanks to treatments available through clinical trials.
"In 2007 we entered our two year-old son, James, into a clinical trial following his diagnoses of acute lymphoblastic leukaemia with the hope that it would help children in the future to fight cancer," said Doyle.
"Little did we know then that it would actually be his little sister, Kate, 10 years later, who would be one of those children to benefit greatly from this exact trial."
Vish Gain
This article originally appeared on
www.siliconrepublic.com
and can be found
here
: https://www.siliconrepublic.com/innovation/institute-for-clinical-trials-ireland-university-of-galway-peter-doran
Image Credit
Prof Peter Doran and Noreen Doyle. Image credit: Andrew Downes/Xposure