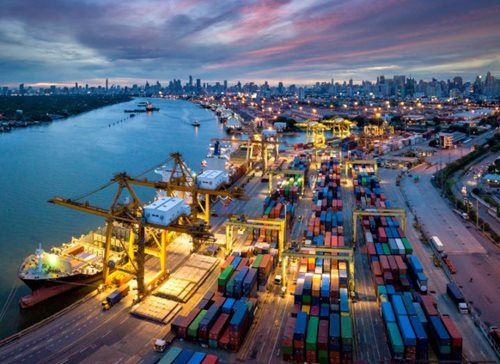 Liebherr manufactures container cranes onsite in Kerry. Its deal with MTU and Lero will see it recruit six full-time researchers.
Lero, the Limerick-based Science Foundation Ireland (SFI) research centre for software and Munster Technological University (MTU) are both embarking on a four-year research partnership with Liebherr Container Cranes.
The collaboration aims to produce knowledge that will make the company's shipping container cranes 'smarter', or safer and more reliant on automation tech.
Liebherr is headquartered in Killarney, Co Kerry and its cranes are manufactured onsite.
The research partnership is being led by Lero researcher Prof Joseph Walsh, who is based at the MTU's Kerry campus.
Walsh's research is typically centred around intelligent mechatronics, software and intelligent sensor systems.
He said that six full-time researchers would work in close partnership with Liebherr engineers on the project, which will be focused on next-generation tech for container cranes.
"Container cranes are one of the most significant investments and operating expenses in ports and intermodal terminals worldwide," said Walsh.
"The collaboration focuses on technologies such as operational digital twins, advanced data analytics and advanced sensing systems to enhance the design, deployment and operation of cranes around the world."
According to Walsh: "The research is complex because container cranes are highly advanced systems operating in complex environments."
Liebherr employs more than 800 people in Munster and it has been working in partnership with the region's IT colleges and universities for some time, providing apprenticeship and other early-career opportunities to local graduates.
MTU's president Prof Maggie Cusack pointed out that the company has benefitted from the skills of MTU graduates also.
"Liebherr's search for world-class researchers brought them to their neighbours, just over the road ¬– MTU, Tralee," she added.
The Lero centre is no stranger when it comes to working with companies on research partnerships. Last year, it
teamed up with Provizio
to work with the Limerick-based start-up on its sensor tech to prevent car accidents. In 2018, it inked a partnership with
French autotech player Valeo
.
Blathnaid O'Dea
This article originally appeared on
www.siliconrepublic.com
and can be found
here