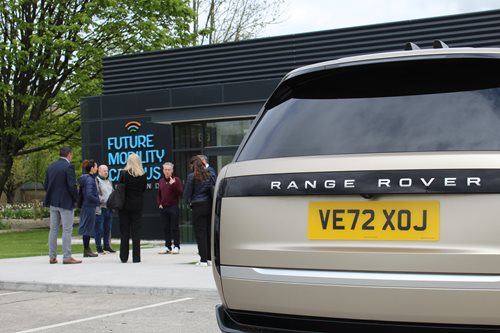 Ireland is not exactly known as a car country. But with the shift to e-mobility, the past doesn't matter much: good universities and tech companies have made Ireland a centre of software and battery development. And the location scores with other advantages.
Green meadows, fields, sheep on hilly pastures - at first glance, the small village of Tuam, half an hour north of Galway in the west of Ireland, looks like an agricultural idyll. But the town of 10,000 inhabitants is a centre for mobility technology.
Here, the French automotive supplier Valeo is tinkering with new cameras, radar and lidar systems and the associated software systems to equip vehicles with ever more sophisticated sensor systems.
Among the projects being worked on here is a fully automated parking system, in which the car finds a parking space on its own without a driver, in cooperation with BMW. The site has 1000 employees, more than half of them engineers and computer scientists working in research.
The development of automotive safety technology in Tuam goes back 40 years, and in 2007 the company was taken over by Valeo. "The west of Ireland is not traditionally an automotive hotspot, but we are showing that with the right technology and the right people, you can innovate anywhere," says Peter Reilly, who is responsible for Driving Vision Systems in Tuam.
The whole of Ireland has no automotive tradition, admits Ian O'Hora, responsible for technology and sustainable economy at the investment promotion agency IDA. The country is all the better positioned in the fields of technology, information technology or software development - areas that have also been becoming increasingly important for the automotive industry for years.
"We will probably never manage to bring a carmaker into the country for production," says O'Hara. "But there is a lot for us to do in the immediate area."
Bosch is also on site
In recent years, Ireland has built up a lot of capacity around the topic of mobility. For example, the US semiconductor company Analog Devices. The company maintains a research and production site in Limerick, which is intensively involved with car batteries and charging systems, among other things.
The system of a wireless battery pack developed here simplifies assembly and reduces the time required to six and a half minutes, less than a third of the traditional system with cable harnesses, which also requires elaborate safety precautions because of the high voltage.
On the other side of the city, Bosch opened a research centre two years ago, focusing on automotive electronics and semiconductors. In neighbouring Shannon, 300 engineers and computer scientists are working on safety and entertainment systems for Jaguar Land Rovers.
And the focus on mobility and cars is to be strengthened even further. Barry Lunn, founder and head of Provizio, is tinkering with a radar-based safety system that supports autonomous driving at the Future Mobility Campus, a government-funded research centre not far from Shannon Airport.
The technology is significantly cheaper than previously used sensors, and it also works in all weather conditions. The associated software not only creates a high resolution, supported by artificial intelligence it can also warn of sources of danger.
"This platform will revolutionise car safety," Lunn is convinced. He is now working with partners from the industry to make the system suitable for series production in high volumes within two years.
By 2030, four out of five cars will be fully internet-capable
The challenges and the rapid changes in the car industry are usually attributed to the drive technology, the switch from the combustion engine to battery-powered electrics. But drastic changes will also result from the ever-increasing networking of cars.
Safety features such as automatic braking, adaptive speed control or automatic parking are already offered in many cases today. The more vehicles drive autonomously, the more interesting other offers will become: sound systems and screens for entertainment, but also further advances in navigation or voice control.
The analysts of the Swiss UBS assume that by 2030 four out of five cars will be completely internet-capable. The systems can thus be regularly updated. Vehicle owners can buy additional features via updates.
For the car industry, this means new ways of thinking: Instead of thinking in terms of model cycles of six to eight years, as in the past, software solutions will make innovations possible every month.
The ever-increasing focus on software in the automotive industry is also emphasised by Markus Heyn, Managing Director at Bosch. "Software is not only changing how we use and experience cars in the future. It is also changing how cars are developed." By the end of the decade, software should account for about one third of car development, Heyn expects.
German manufacturers are not necessarily at the forefront when it comes to software issues surrounding mobility. The reorientation does not only mean that traditional manufacturers have to adapt and rethink.
New opportunities for Ireland as a tech location
They are also facing competition from new providers who focus on connectivity and entertainment in the vehicle right from the start. In China, young car companies such as Nio, Xpeng and Li Auto are leading the way. In addition, opportunities are emerging in the supply chain, for young companies as well as for established ones from sectors such as semiconductors or the software industry.
Ireland sees itself well positioned here. For years, the country has been an important location for tech companies, especially from the USA. The low corporate taxes are seen as an incentive to relocate.
In addition, there is the advantage of the English language and traditionally good connections between the island and the United States. According to OECD data, the country also has the highest productivity within the club of wealthy industrialised nations.
Amazon, Google, Facebook, Intel are just some of the technology giants that have made the country one of the most important locations in Europe.
"Experts from these companies keep moving to us," says John Cormican, managing director of vehicle technology at Jaguar-Landrover and responsible, among other things, for the group's software engineering centre in Shannon. Irish companies were able to profit not least during the wave of redundancies by the large technology providers in recent months.
There is also an advantage in the labour market due to Brexit, says Mike Morrissey, Managing Director at Analog Devices. Young software experts and engineers from the European Union can work here thanks to freedom of movement and improve their English skills at the same time.
Labour market without worries about young talent
"That's already attracting some." Quite a few from outside the European Union: at the end of 2022, almost a fifth of the labour force in Ireland came from abroad.
Unlike Germany, for example, Ireland does not have a recruitment problem either. The country is the youngest in the EU, a third of the five million Irish are under 25 years old, half of the population is under 34.
In the coming years, a lot of young people will continue to enter the labour market - and they are well educated. 61.7 percent of 25-34 year-olds have a university degree. The EU average is 41.2 percent, the German figure is lower.
The Irish also lead the EU in scientific and technical qualifications. Four per cent of under-30s have a degree in one of the STEM subjects mathematics, information technology, science and technology, which is almost twice the EU average.
More powerful batteries are the field of research of Tadhg Kennedy, lecturer in environmental technology at the University of Limerick's Faculty of Chemistry. At over 150 test stations, he and students are testing new materials and components to replace the graphite anode of a lithium-ion battery, among other things.
Silicon and germanium are two materials that seem promising, he says. In cooperation with 15 research institutions from all over Europe, Kennedy and his colleagues are also leading a project that aims to make vehicle batteries significantly more powerful and cheaper.
Future-oriented courses of study
At the LERO Institute, a University of Limerick institution focusing on software research, experts are working on more powerful sensors and algorithms, among other things, to advance autonomous driving. "But these technologies often have many applications," says Joe Gibbs, executive director of the institute. Agricultural machinery and logistics are two such areas.
Universities regularly work closely with companies to develop new courses of study. Inspired by the interest of a handful of companies, the University of Limerick is now offering a degree in artificial intelligence and machine learning, which includes an eight-month internship with one of the corporations. "We are trying to have close cooperation between universities, companies and government," says O'Hara.
Increasingly, the country is tying in with a certain automotive tradition. More than 70 years ago, the island was the first location outside Germany where a VW Beetle was assembled. The very first of these models, sent back to Germany for quality inspection, is still in Wolfsburg today.
This article first appeared in
Die Welt
. You can see it
here