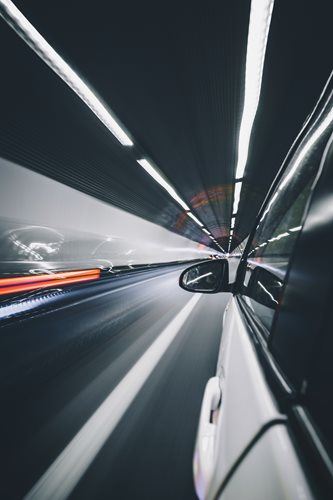 At the National University of Ireland (NUI) campus in Galway a team of academic researchers and engineers from French company Valeo are working together on a project focused on the development of new and innovative sensor technologies for autonomous vehicles.
A manufacturer of vision systems for cars, Valeo recently announced that it had produced its one hundred millionth nearfield camera at its Tuam site in Co Galway, where it employs 850 people and has an extensive research and development centre.
The researchers on the project which started in 2018 are from Lero, the Science Foundation Ireland research centre for software, and led by Professor Martin Glavin and Professor Edward Jones at NUI Galway. The project involves testing new and emerging sensor technologies, mixes of different sensor technologies and signal processing algorithms, including machine learning and artificial intelligence (AI).
"One of the key issues with autonomous vehicles is that in order for them to become accepted by society, they must be proven safe and reliable in all conditions," says Glavin. "At the moment, even the most advanced semi-autonomous vehicles will need support from a human driver if the weather or road conditions deteriorate, or if the situation becomes too complex for the vehicle to proceed safely."
The team has set up a test car on the NUI Galway campus equipped with numerous sensor mixes to determine how well the sensors work in different scenarios and in different weather conditions. "Being located in the west of Ireland means we benefit from the somewhat variable weather conditions that exist here," notes Jones.
"Sensors have been set up on the NUI Galway campus and we hope to bring them online in the coming weeks to facilitate supporting sensors on the vehicle with sensors in the infrastructure. We're also looking at 5G technology to see how well 5G and 6G technology might support autonomous vehicle operation."
Down the road in Limerick, Irish start-up Provizio has built a groundbreaking, five-dimensional accident prevention technology platform with a view to radically transforming vehicle safety. The platform combines proprietary vision sensors and machine learning to see further, wider and through obstacles – detecting danger in all-weather conditions and applying predictive analytics in real time to prevent accidents.
Currently employing 22 highly-skilled people, Provizio was founded in 2019 by a team of automotive and aerospace industry veterans. In November 2020, the company closed its seed investment round of US$6.2m entirely over Zoom, with venture capital, industry and technology veterans such as Bobby Hambrick, Founder of AutonomouStuff, and the founders of Movidius (the Intel-acquired leader in mobile vision processor chip design) along with the European Innovation Council and ACT Venture Capital.
"Having built radars and vision systems for everything from spacecraft to autonomous vehicles for over 20 years, one of the things we identified was that the sensor stack and back-end software were incapable of solving edge cases – which are the reasons we crash," explains
Provizio Founder and CEO Barry Lunn
.
"So, we set about building something that would be ten times better than a human and ten times better than that again. Our platform can not only see the car ahead, but detect its exact velocity and range and everything on the 360-degree horizon."
Provizio is one of the first Irish start-ups to test its proof of concept at Future Mobility Campus Ireland (FMCI) in the Shannon Free Zone in Co Clare, which was the brainchild of former Jaguar Land Rover (JLR) employees Russell Vickers and Wassim Derguech. Currently under construction, the FMCI will comprise a 12km road network that is retro-fitted with interconnected, state-of-the-art sensing and telecommunications technologies as well as control centre building.
As one of the numerous supporters of FMCI – which include IDA Ireland – JLR has loaned it two vehicles, a Jaguar I-Pace and Land Road Defender, which industry partners and start-ups can use to test their technologies.
"We have been able to show that each of the five layers of our solution adds huge improvements in terms of visualisation and accident prevention – without the need for additional hardware. As far as we're aware, we're the first company in the world to do the entire back-end and digital processing all on a graphics processing unit [GPU]. This allows us to 'plug and play' so that Tier 1 automotive companies and original equipment manufacturers [OEMs] can easily evaluate our technology," explains Lunn.
"Some of the Tier 1 companies and OEMs we are talking to are very happy to see our proof of concept at FMCI, which is an independent testing ground they can access data from. I think it is really going to take off as start-ups can spend more engineering time on their own products, and innovations will come to the market faster as a result. Most vehicle testing grounds around the world such as in Arizona or Los Angeles in the US don't have the weather that Shannon has, with some fog and rain guaranteed – that is huge for us," notes Lunn.
JLR's software engineering centre in Shannon, which opened in 2018 is the hub of its autonomous and next-generation vehicle projects. In February, the luxury carmaker announced that it had entered into a multi-year strategic partnership with gaming graphics and chip technology company Nvidia. It follows a similar partnership announced by Mercedes-Benz and Nvidia in 2020.
Starting in 2025, all new Jaguar and Land Rover vehicles will be built on the Nvidia Drive software-defined platform – delivering a wide spectrum of active safety, automated driving and parking systems as well as driver assistance systems. Inside the vehicle, the system will deliver AI features, including advanced visualisation of the vehicle's environment.
"I see software-defined perception in autonomous vehicles as the future. With our GPU-based system, that is our sweet spot and we will fit perfectly into that future, which is being created by developments with the likes of Nvidia and Qualcomm Technologies," notes Lunn.
In March, Dublin-based connected software solutions provider Cubic Telecom announced it was set to strengthen its strategic relationship with Qualcomm, which is a leading systems solutions provider for the automotive industry. Cubic's connected software solutions will enable global connectivity and related analytics and insights for Qualcomm's car-to-cloud services. Powering more than 8 million vehicles across 100 countries, Cubic's software is used by global leaders in the automotive and technology sectors, including Audi, Bentley, Volkswagen Group, Microsoft and Kymeta.
This article was taken from Innovation Ireland Review. Innovation Ireland Review is produced by IDA Ireland & Ashville Media. Link to full magazine:
https://issuu.com/ashvillemedia/docs/ida_summer_2022_digital_edition_f51428277576e6?fr=sZjYyZTQ4NjQyMjQ